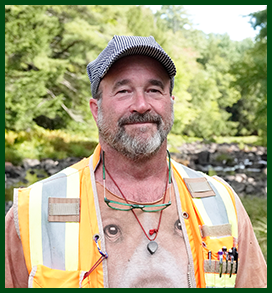 Jon C. Buschbaum has been working in natural resources his entire adult life. Going to Paul Smith's College for Forestry was such a rewarding experience for the beginning of a professional life that involved the woods. Jon moved to New Hampshire in 1986 upon graduation and immediately started working in a small local sawmill for a brief period. Having a real love for the woods drew him back into timber harvesting with a much more intense focus. Perhaps we could improve the woods with different forms of management/conservation and even preservation type approaches. The idea was to give all the elements of the woods a voice, a helping hand, which led to a personal drive to do better for the benefit of the woods and everything that the woods contain. It was that thought that drove him to try and understand what the woods were about. And that's where this dedication to the environment really begins.
Jon was working in the woods when licensure and certifications began and became the norm here in New Hampshire. Having been one of the first "Certified Timber Harvesters" in the State of New Hampshire, Jon decided that clearly there was so much more to learn. Looking at landforms, landscapes and the geomorphic integrity that they contain combined with having to work within these parameters, Jon knew he needed to pursue a life of learning to understand what we do with, and don't know about, our environment.
Plants are one of his true obsessions. He had to be able to identify every plant that he came across, to know where it stands taxonomically, and its classification as an indicator of a specific habitat. He even wrote his own non-published book which is an aid in identifying plants. Another book written for children entitled "If I Were A Plant, Which One Would I Be?". Since plants grow in soils, he had to study and understand soil types, and where they were geographically on the landscape, and why they were there. Streams, brooks, and drainageways intrigued him. He wanted to understand their functioning values and their real importance and purpose. These are extremely dynamic ecological wonders that offer us a peek into what defines our environmental and water resources. But one of the greatest interests he had was wetlands; what they were, why they were there, and how they functioned. New Hampshire's landscape is very young geologically and when he started to study about glaciation (long-term) and our own land use history (short-term), things started to make sense. Looking at everything in a holistic concept and seeing just how connected everything is gave him the passion to focus on trying to help determine how our lands can and should be used today.
Jon holds the following professional disciplines:
NH Licensed Land Surveyor #01061
NH Certified Wetland Scientist #210
NH Licensed Professional Forester #237
NH Licensed Septic Evaluator #60
NH Permitted Septic Designer #1883
2022 © Copyright Envirespect | Website design by NH Strategic Marketing LLC